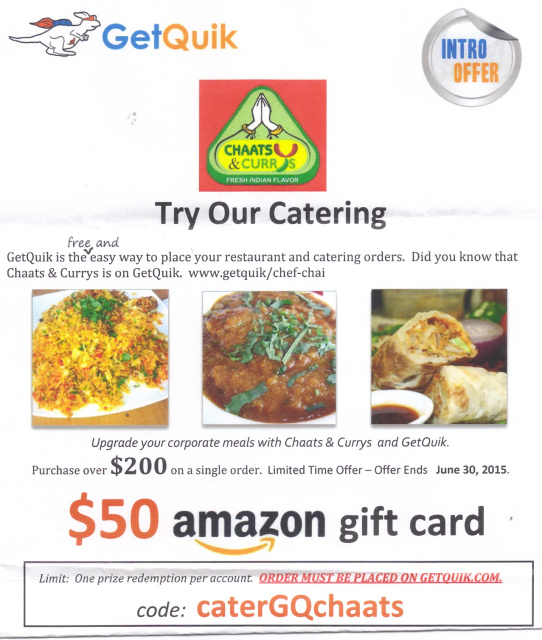 THE ABOVE IS A GET QUIK OFFER TO COMPANIES
CALL US FOR LARGE OFFICE CATERINGS Al Or Jazzy @4087469192 Chaatsandcurrys@att.net
ONSITE owner run restaurant
OPEN 7 Days/Wk Please dont Wait--- Call Takeout 1408746-9192
Located at 520 Lawerence Exp and(101) Svale 94085 in St Johns Bar & Grill parking lot. We are a small family run business (Small 25 seater restaurant) We Cater for

Office Luncheons &

Dinners.
Questions / Complaints /Service / Food PLEASE (email in FEEDBACK which is
anonymos)
Please ask us So we can Make it Happen for you
Join us at http://www.facebook.com/pages/Chaa ts and Currys.
Paneer ( Cottage Cheese) cubes cooked in Spinach
Mixed Vegetables Ball cooked in tomato creamy sauce with herbs & Spices.
Boneless Lamb pieces cooked in herbs & spices.
Boneless Chicken pieces cooked in cashew based sauce, spices & herbs .
Served With 1Nan or Half plate Rice
WRAPS
We Serve Halal